Latest News!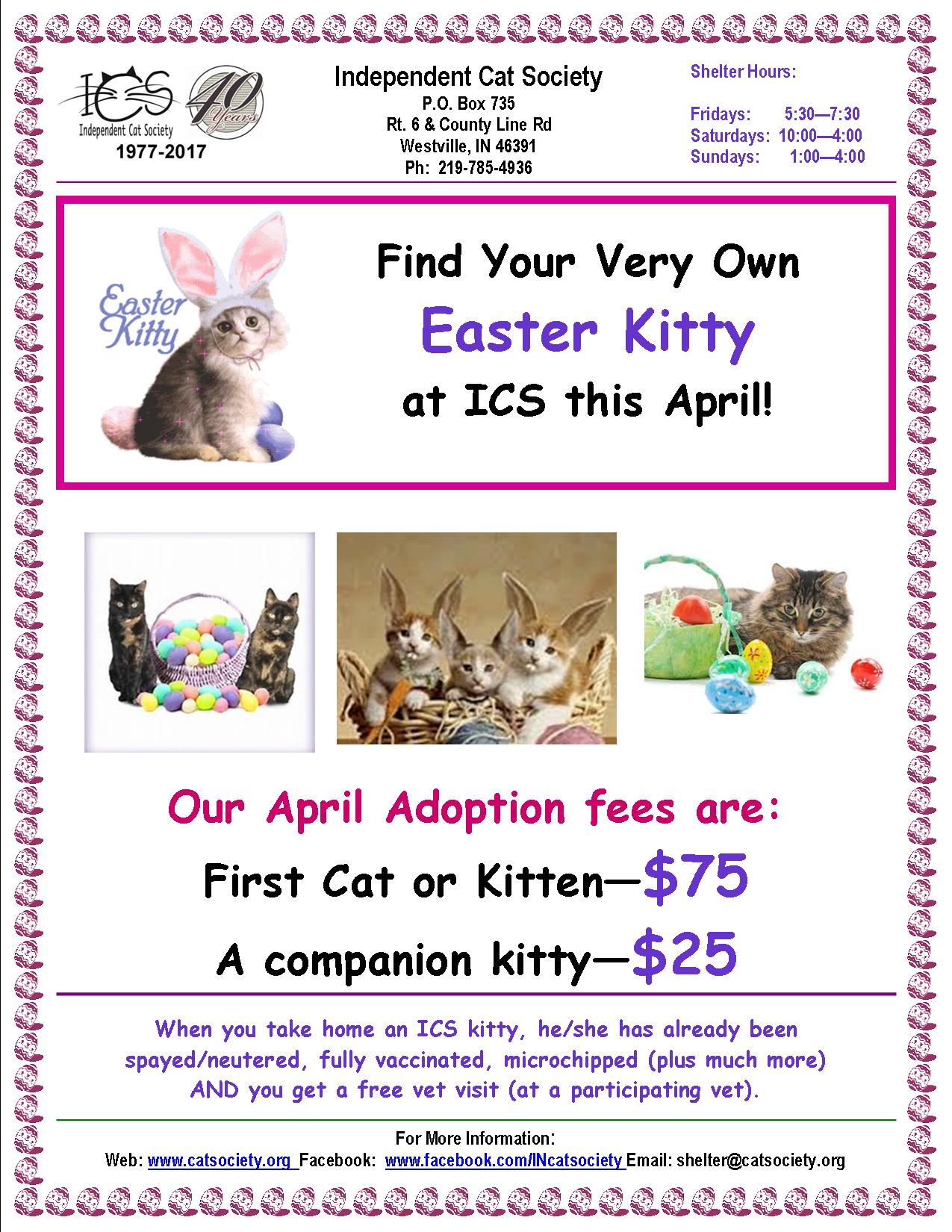 Find your own Easter Kitty and bring home a furry companion - or two - to help usher in spring!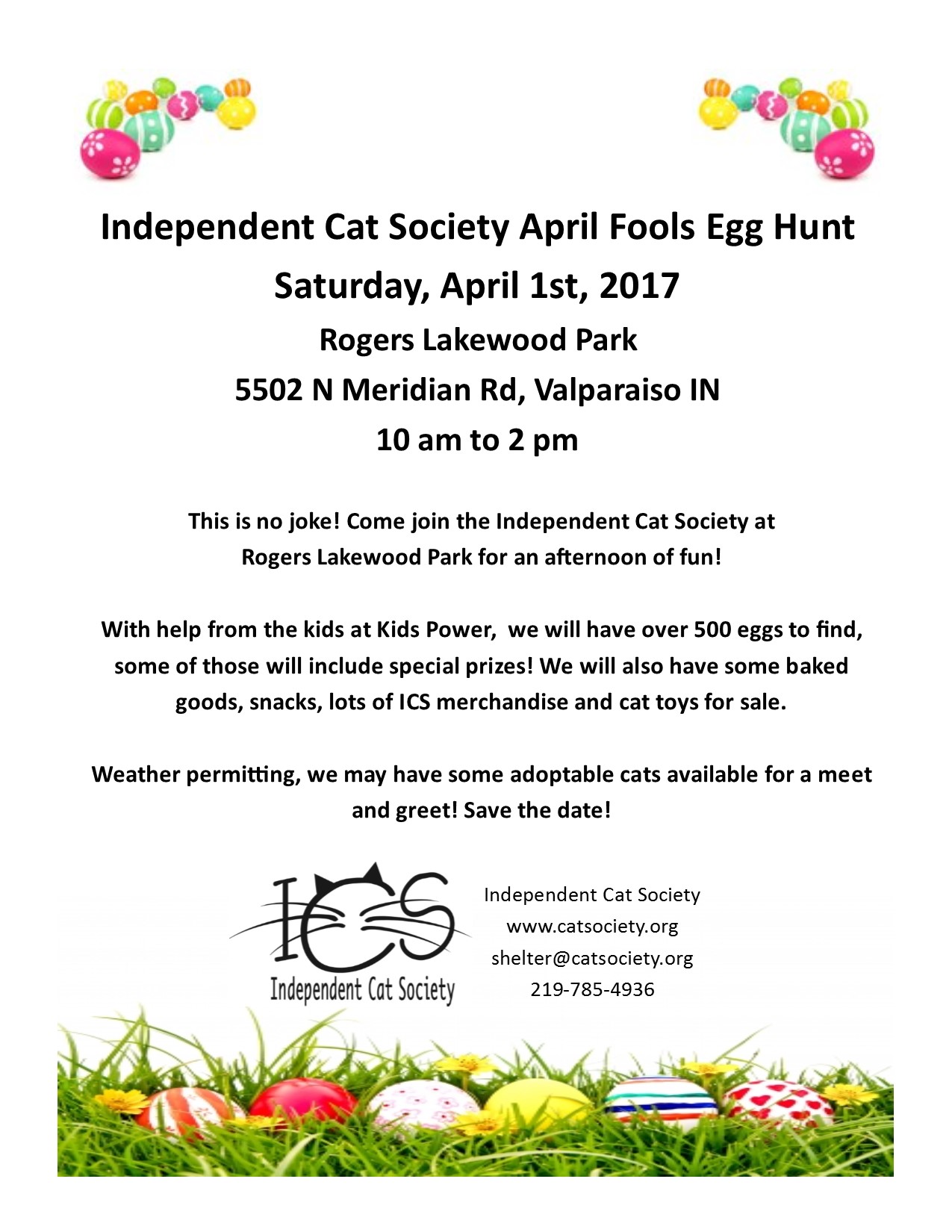 April Fools Egg Hunt - April 1 at Rogers Lakewood Park, Valparaiso: Come on out and support the kitties and KidsPower Valparaiso!
---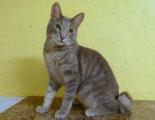 The Independent Cat Society (ICS) is a no-kill cat shelter in Westville, Indiana. Established in 1977, ICS has continuously maintained its goal to find homes for homeless cats in our community. Once each cat is spayed or neutered, we focus on adopting the cat into a safe, loving and lasting home.
As a not-for-profit 501(c)(3), the Independent Cat Society is funded almost entirely through membership fees, adoption fees, fundraising events, and the generous tax-deductible gifts of caring individuals, like you. Although we have a small cleaning and medicating staff, we operate our shelter mainly with volunteers. We do not receive any government funding.
Our Cats
Every cat admitted to our shelter is examined by a vet, is spayed or neutered, and is up-to-date on vaccines and necessary medical treatment. Our no-kill policy means we do not euthanize cats unless a veterinarian advises it to relieve suffering, nor do we supply cats to any facility for research purposes.
Scroll to see just some of our beautiful cats below. Visit us at our Petango Online website for more details!
Find out more about adoption policies, fees, and fill out an online application
Can't come out to visit but still want to see some of our cats in action? Why not try our new iPet Companion, a live Web camera that lets you take control of the favorite toys in our "Freckles" room and play online with our cats? It really is a fun new advance in technology - you'll love it! You can play almost anytime, 24/7 (even at night in night-vision). Just click the link below and hook up live to our iPet Companion camera!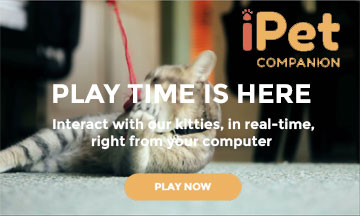 Our Mission
The Independent Cat Society is a non-profit, no-kill feline shelter serving Northwest Indiana since 1977, whose mission is to rescue, shelter, adopt, and promote spaying and neutering of cats.
Values
The activities of ICS are based on its mission, to reduce pet overpopulation and educate the public while preventing animal cruelty and promoting responsible pet ownership and legislation. We work toward this mission through our efforts in Sheltering, Adoption, and Spay/Neuter in the Community.
Vision
The vision of ICS is to serve as many cats, pet owners, and community members in the Northwest Indiana and neighboring Chicago area and Southwest Michigan area as possible. To accomplish this, ICS:
Provides a sanctuary for homeless felines in their transition to adoption
Strives to provide for the healthcare needs of the shelter population.
Promotes responsible feline ownership through educating the public.
Addresses feline overpopulation through our various programs.
The Independent Cat Society does not discriminate on the basis of race, color, national origin, marital status, sexual orientation, disability, gender identity, religion, veteran status, or age (minimum volunteer age is listed) in its programs, employment, or activities.
---
Visit Us!
Many people think animal shelters are a sad place to visit. Not true! The Independent Cat Society is a happy place, where the animals are well taken care of and healthy. We always feel good visiting the shelter, and we're sure you will, too. If you would like to be a part of our life-saving mission, as a donor, volunteer, or adopter, please contact us, tour the shelter and meet our "family."
The Independent Cat Society is at Rt. 6 and the La Porte/Porter County Line Road, in Westville, Indiana. The shelter is open Friday, 5:30pm - 7:30pm, Saturday, 10:00 a.m. to 4:00 p.m., and Sunday, 1:00 p.m. to 4:00 p.m., or by appointment by calling (219) 785-4936.